Have you seen a flash mob recently? When my brother-in-law was about to propose to his girlfriend last year, I was so 'happily' shocked that I literally said the word "flash mob" out loud. To me, flash mob is a fun and surprising act, or maybe that's just because I'm only the spectator and not the performer. Speaking of flash mob, have you watched the Sacla' Stage Shopera in London Foodhall?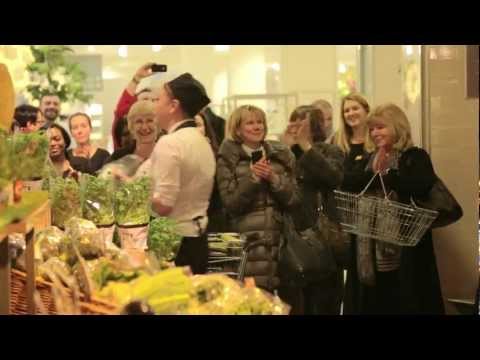 What a fun way to market your products! Anyhow, today I'm going to share this lemonade recipe that we've been enjoying daily. Have you tried basil seeds before? They are similar to the black sesame seeds but a bit smaller. When I was a kid, I was always amazed when my mom soak them in warm water and in 2 minutes the seeds absorb water and become gelatinous. The warm water helps to fully expand the basil seeds, releasing the antioxidants and the digestive enzymes. The outer layer becomes soft and smooth, but the center are crunchy.
There are many benefits of eating basil seeds. They can aid digestion and provide relief from upset stomach, constipation or irregular bowel movements, also provide relief from influenza, fever and cold. Basil seeds is actually one of the main ingredients in cough syrups. They can help in the cure of respiratory diseases, as a stress reliever and also good for skin infections. But for me, I have been using basil seeds as an excellent natural body coolant after an excessively hot weather when the sun seems unforgiving.
Basil Seeds Lemonade
2013-07-26 17:06:43
A refreshing and healthy drink, perfect for Summer
Ingredients
Juice from 2 lemons
2 1/2 cups water
1 tbs honey
2 tsp basil seeds
Instructions
Combine all the ingredients together.
The Urban Mrs http://theurbanmrs.com/